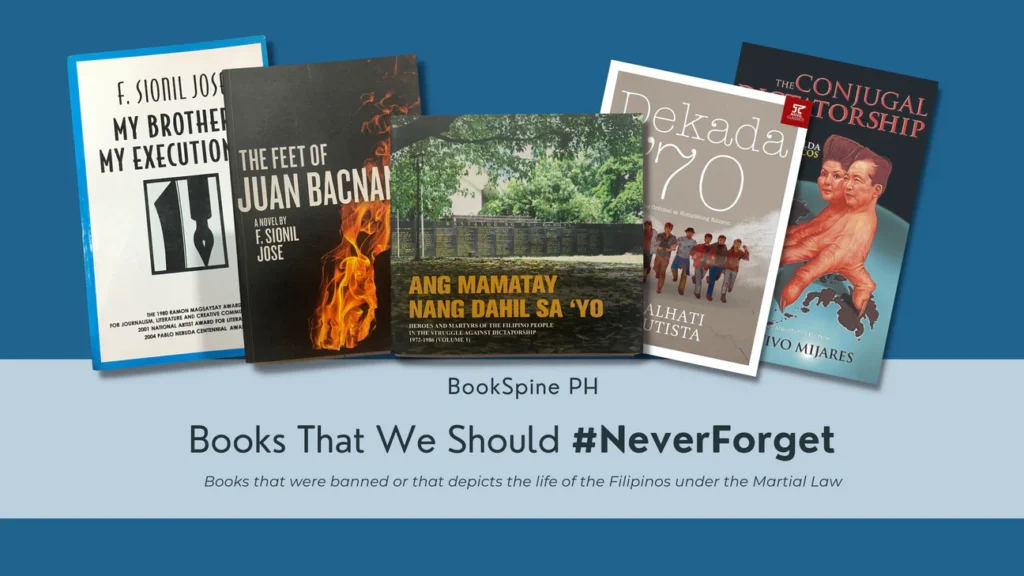 In this digital age, misinformation is very prevalent on the internet, whatever social media platform it may be. Many people have become victims of this information which resulted in different versions of stories, and even history.
One of the topics that are heavily tainted with misinformation right now is the Martial Law regime in the Philippines that lasted for 14 years from 1972 – 1986. During that time the Philippines experienced immense violation of human rights and censorship by the dictatorial government.

Despite the challenges, many Filipino writers bravely wrote about their experiences and the reality of what the Filipinos were facing during that time to serve as an eye-opener to the Filipinos until the future generations.

With that, here are some of the banned books during that time or just books that tackle Martial Law to educate ourselves:

1. My Brother, My Executioner by F. Sionil Jose
Book from the same author:
The Feet of Juan Bacnang by F. Sionil Jose
2. Ang Mamatay Nang Dahil Sa'yo Vol. 2

3. The Conjugal Dictatorship by Primitivo Mijares
You can access the e-book here: http://rizalls.lib.admu.edu.ph:8080/ebooks2/Primitivo%20Mijares.pdf 
4. Dekada '70 by Lualhati Bautista
You can buy the book directly from her, just message her Facebook account.
As we live in the digital age, accessing information is just one type away. We just have to be vigilant and critical on which source are we going to get it.
By: Ella Lorraine Regudo (BookSpine Apprentice)